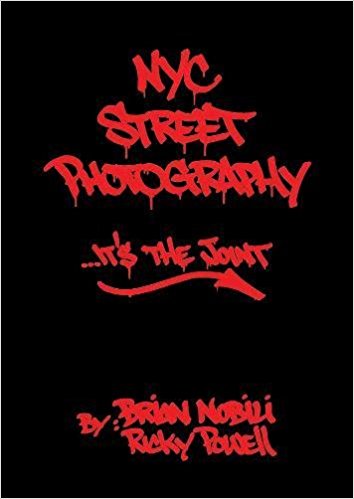 Photographs by Joe Conzo Jr. are part of a recent release titled NYC Street Photography: It's the Joint (Dokument Press, 2017). The authors, Ricky Powell and Brian Nobili, assembled 10 New York City street photographers who they felt captured the "rhythms, movements and landscape of one of the world's most complex urban environments."
The book is available on Amazon.
"Three Photographers from the Bronx: Jules Aarons, Morton Broffman, and Joe Conzo"
February 26 to June 14, 2015
The Bronx Museum of the Arts
1040 Grand Concourse
Bronx, New York
The exhibit will showcase the work of Jules Aarons, Morton Broffman, and Joe Conzo—three Bronx-born photographers who captured significant moments of societal and urban change in the borough and across the country during the 20th century. The exhibition features over 80 works, from depictions of daily life in the Bronx and Far Rockaways in the early 1950s, to images of the Civil Rights Movement of the 1960s, to a searing look at Bronx community protests in the early 1980s. Together these works create an exchange across three distinct and intertwined moments—exploring the legacy of community activism and urban change, and launching a dialogue surrounding the challenges the Bronx and similar communities continue to face today.
For more info: http://www.bronxmuseum.org/exhibitions/three-photographers-from-the-bronx
"HIP-HOP REVOLUTION: PHOTOGRAPHS BY JANETTE BECKMAN, JOE CONZO, AND MARTHA COOPER"
Museum of the City of New York
1220 FIFTH AVENUE, NY, NY 10029
APRIL 1 – SEPT. 15, 2015
"Hip-Hop Revolution" presents more than 80 photographs taken between 1977 and 1990 by three preeminent New York-based photographers—Janette Beckman, Joe Conzo, and Martha Cooper—who documented hip hop from its pioneering days through its emergence into mainstream popular culture.
For more info: http://www.mcny.org/exhibition/hip-hop-revolution
"An Evening with Joe Conzo and Grandmaster Caz"
Wednesday, February 18: 7 p.m.
Rock and Roll Hall of Fame and Museum
1100 Rock and Roll Boulevard
Cleveland, Ohio 44114
(East Ninth Street at Lake Erie)

Hip-hop photographer Joe Conzo will discuss his photographs featured in the Rock Hall's latest exhibit, Fresh, Wild, Fly and Bold, which documents the pioneering days of hip-hop as well as life in the Bronx in the 1970s and 1980s. Conzo will be joined by legendary hip-hop MC and DJ Grandmaster Caz of the Cold Crush Brothers. Joe Conzo was the official photographer of the Cold Crush Brothers and the group is featured prominently in the exhibit. The exhibit can be seen at the Museum's Patty, Jay and Kizzie Baker Gallery. The collection of 26 photographs is courtesy of the Cornell Hip-Hop collection. – See more at: https://rockhall.com/event/Conzo-and-Caz/#sthash.2huweTWh.dpuf