The duo Circa '95 curated the Circa '95 Pop-Up Shop, a lifestyle store encouraging music, art, culture and wellness throughout the community.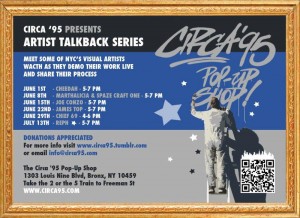 Photographer Joe Conzo was a special guest at The Braun Battle of the Year 2011. He held an exhibit in the KVS Theater in Brussels, and gave a presentation of his book "Born In the Bronx" on Friday, September 16th @ 5PM. Joining Conzo was Universal Zulu Nation founder Afrika Bambaataa who hosted the After Party.

http://vimeo.com/35811509
"3 The Hard Way" Exhibition featuring Joe Conzo, Jamel Shabazz and Ernie Paniccioli at Gallerie 63, Brooklyn.
Continue reading →